In a significant change to the social network's architecture all links now posted on Twitter are being redirected to its own t.co url shortner before sending users to the actual link address.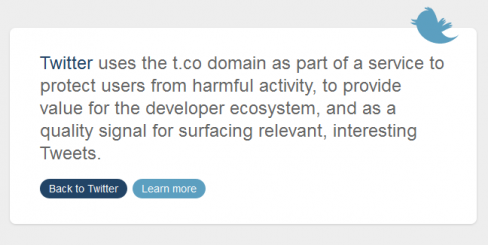 The change took place some time after 8pm on Monday (GMT) and completes Twitter's efforts, which it began last year, to manage all links leaving its network.  Since late last year Twitter has been redirecting all links over 20 characters in length to t.co addresses.  However, links under 20 characters, such as j.mp links were unaffected.
While users will notice more t.co links in their feeds the big change will be for website owners and developers.  Links tweeted via the Twitter website and most clients will be converted to t.co while those entered by url shortening services, such as bit.ly or HootSuite will retain the bit.ly, ow.ly link text but will be changed to t.co in the code.  What this means for users is that when they click a link in Twitter they will be first taken to the t.co page then immediately redirected to the second short link (bit.ly, ow.ly, etc) and then finally to the webpage itself.
Twitter says that its own short URLs are safer for users, as the company automatically checks t.co links for malware and other similar content.  Twitter says;
"Twitter's link service at http://t.co is used to better protect users from malicious sites that engage in spreading malware, phishing attacks, and other harmful activity.

A link converted by Twitter's link service is checked against a list of potentially dangerous sites. When there's a match, users can be warned before they continue."
However, Twitter also hopes that using t.co links will show website owners how much traffic the ecosystem sends to their sites.  Unlike Facebook or Google+ users are more likely to access Twitter from a number of clients such as Hootsuite, TweetDeck, Seesmic, etc and because of this it has been hard for website owners to see how many visitors Twitter has sent to their sites.  With the now-universal use of t.co links website owners will simply see t.co as the referring site.
But its not all good news for webmasters, Twitter has angered some users who purchased custom short urls has part of their company's online branding by these moves. Although, as the company says "tracking metrics (like those from bit.ly) will continue working as before" we have seen that retweets and some Twitter clients, including Twitter's recently purchased TweetDeck, show the t.co link rather than the custom short link.
This is part of Twitter's wider efforts to take greater control over its ecosystem.  Earlier this week a US court granted the company the trademark for the word "Tweet", a move that could spell even more bad news for websites and companies offering Twitter clients containing the word, many of which have already been banned from using the word "Twitter" as part of their own names.  Twitter has also removed RSS access to users' and search Twitter feeds.
The change comes ahead of Twitter's long mooted analytics system, which is due to release to the public in the coming months.